Tuned to Your Heart
A downloadable game for Windows, macOS, and Linux
Local music witch, Cinnamon, has been asked out by Freesia, a very cool ice witch. They've agreed to go eat dinner but Cinnamon has plans to make the date even better! But it has been a long time since she has been on a date! What do you even do on a date!?!?
The game takes about 15 to 20 minutes to play through and it has 1½ endings. Don't ask. Can't explain. There are a few choices along the way leading to different dialog and outcomes. This game was made for YuriJam 2021.

Features
Cute witches!
A lot of blushing!
Music magic!
Stargazing!
Riding ice spirits!
Fried octocrab!
And more fun stuff!!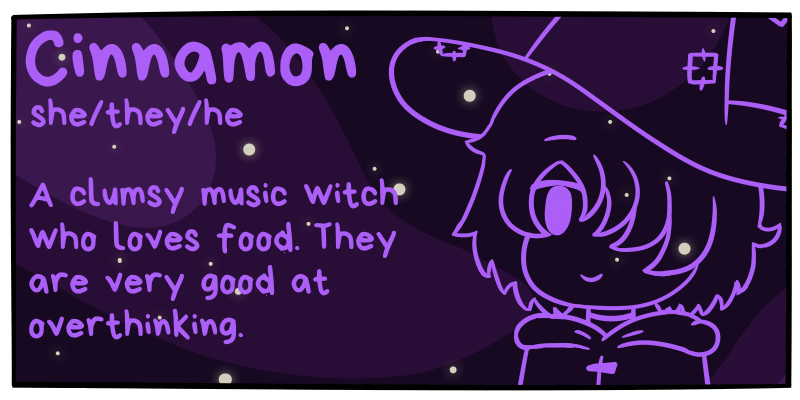 Soundtracks
You can listen to the soundtracks here! You can also download them on this page if you want to!

Credits
Art/Story/Music: Kyanite Heart (me).
Testing/Feedback: Waffleflower & NomnomNami.
Big thanks to my amazing partner for helping me with the code!!

Download
Click download now to get access to the following files:
Tuned to Your Heart V1.1 - Mac
46 MB
Tuned to Your Heart V1.1 - Windows & Linux
81 MB
if you pay $1 USD or more
Comments
Log in with itch.io to leave a comment.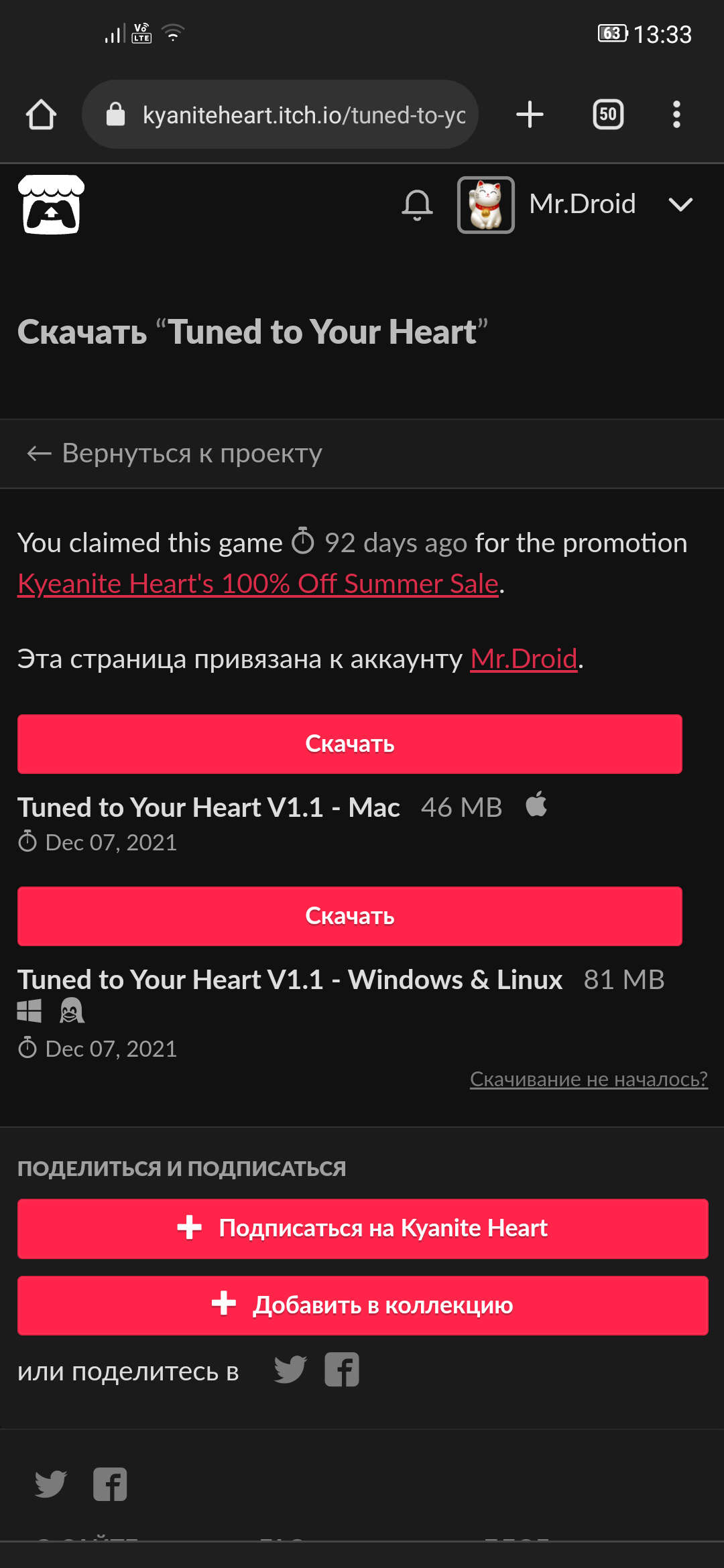 Managed to pick up the game on sale, made some kind of bonus
THE PERSONALITY OOZING THROUGH THIS GAME IS LOVABLE AS HECK.... It was a really nice story!! Always love gays being gay and happy with each other, especially if said gays are also lil' goofballs... The whole aesthetic of the ending was also really lovely and sweet, alongside the little choices there. The music in your games is all distinct and great...!! So that sorta thing is a nice little bonus... Thank you for making this!!

absolutely wonderfully gay game right here~ I enjoyed it a lotttt and voice acting the characters on stream was a lot of fun, so thank you for a bunch of super good writing uwu
thank you!! gonna go look up the stream if it's still there!

even if it's not I'm planning to upload all the vods I saved to a yt channel (when my pc stops screaming in pain while I'm exporting vids) so I can send u a link to it when that happens
Omg that was AMAZING great job I hope you make more visual novel soon!
Thank you! I'm really glad you enjoyed it! I honestly wasn't enjoying making a visual novel that much but I still want to try making another one sometime! I'm already working on more cute games though!

Awwwww, this game is so good!!! 💖💕
The dialogue is lovely, and sometimes very funny~~ XD
The art is stellar, the music wonderful, and the song-making mechanic was such a brilliant surprise!
Speaking of surprises I had to clap during the animated part ~~ that was so cool!
I really appreciate all the consent, and I love that Cinnamon has an Autumn Leaves poster in their room!
Thanks for making and sharing this!
Thank youuu!! It really means a lot to hear all this since I'm still in the process of figuring out how to make games! Really happy someone noticed the Autumn Leaves reference too heheh

Show post...

SUPER FUN VN GAME DEV
woah that was super cute!! !

art is very cute and the story too , music is good too
adorable visual novel :)
it takes a surprisingly huge space though but it does not really matter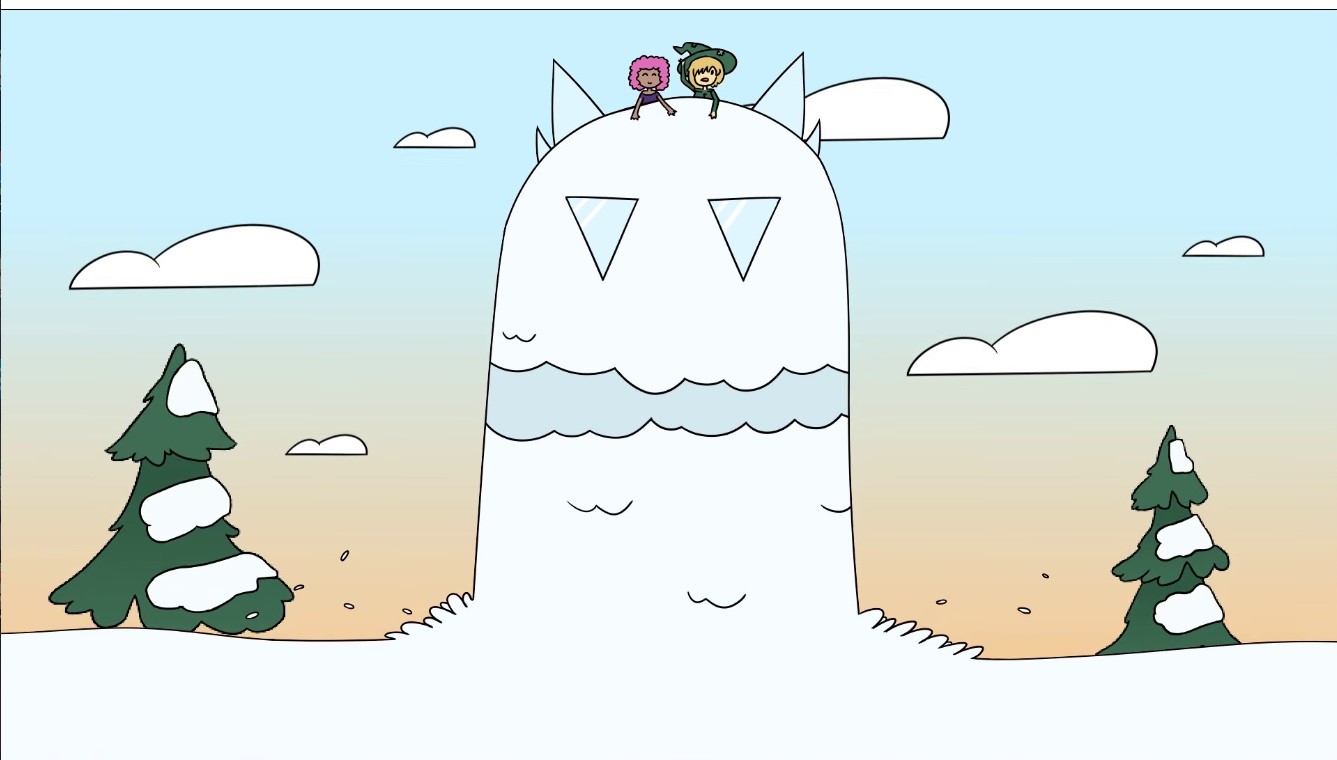 i got to play this game before release and it was SO CUTE AND WONDERFUL! i love it!!! commenting to say GREAT JOB <3